Click on the images below to see a larger copy
Unsigned drawing Morrisseau donated to Akwsasne Notes in 1974. This show the beginning of a transition in his style from the pure medicine painting of his early years-- such as the moose fighting -- to more decorative painting. This painting both illustrates the Great Bear constellation and a myth about how the Bear brought healing to the people through Midè.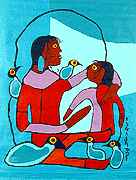 Untitled Legend Painting -- Glenbow Museum owns this and exhibits it on their web page. This illustrates changes in Morrisseau's style as he began to become more narrative, less symbolic of old myths and powers. Unfortunately no one seems to hav felt it important to record what legend or passage he was expressing.
During the 3-year period starting in 1972 that Morrisseau was institutionally recovering both from serious burns in a hotel fire in Vancouver and undergoing detox, he began painting Christian religious images, adapting his hard-edged black-outline technique to icons that suggested -- as this one does -- that saints, angels, and deities are really Indian. The Little Ones here being embraced by an Indian Jesus are Indian children. He reimaged the whole Christian canon that way, with familiar images from Christian iconography turned into Indian images, and all given a feel of stained glass windows by his style.
Stained Glass Window by Brian Marion, using Morrisseau legend art design (titled Our Lady Surrounded by Birds and Animals), from a commercial gallery, Canadian Dream.
---
Explanatory text and graphics copyright 1995.
Last Updated: Friday, July 12, 1996 - 10:40:50 AM