Decorative Romanticism
Click on the images below to see a larger copy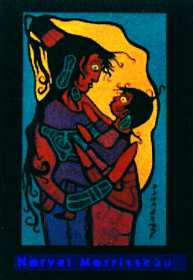 Poster of embracing couple This poster, from Leona Lattimer Gallery, in Vancouver shows us a colorful, romantic image of a young couple. Possibly there's a story it was inspired by, possibly even some romantic Native legend or song of love lost and found. If so, though, it's an illustration in the same sense as might be found on the cover of a Harlequin romance paperback, though executed with more design talent than would be found there.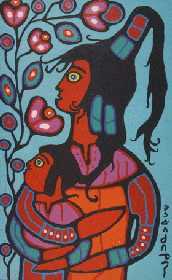 Woman with child. Dedicated by Morrisseau to "All First Nations women who are with child." This sentimental acrylic, from Winchester Gallery in Victoria, B.C. uses the designs of applique beadwork embroidery to form the vine of pretty flowers that the mother and child are looking -- rather blankly -- at. You can make up a story: they are admiring the flourishing plants, which symbolize the continuing growth of the family.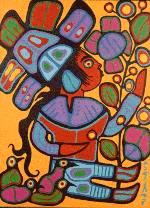 Seated Woman, "We are all relatives, people, birds, fish, insects, etc.", Perhaps Morrisseau title for this cheerful, sunny large acrylic, which doesn't have any insects, fish or animals. Maybe just something the Winchester Gallery (Victoria) stuck to it. Four quiet little birds sit near a seated woman who's admiring a large flowery plant, whose patterns again are inspired by Woodland-style bead embroidery. The elaborate headress perhaps represents extremely flowery thoughts, and there is a hint of a green plant in the x-ray vision of her womb. Nevertheless, this is basically another cheerful, attractive design, that a lot of rich people would like to have on their home or office walls. These two paintings are offered for sale by Winchester Gallry of British Columbia for about $6700.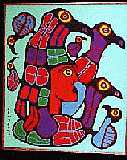 Photographed at a slant against black gallery walls, these large acrylic-on-canvas paintings were found on a recent auction page. It was reported they sold for $2,000 each -- a low price for Canada's best known artist. Not even their titles were mentioned.
There is nothing disturbing, awesome, no hint of grand and perhaps dangerous powers, in these routine, commercialized images. They are merely decorative, romantic, cheerful, with themes that are cliches of growth, family, love. They are expressed in a visual language Morrisseau developed, then reduced to empty cliche, churning them out for sale. As low-cost decorative art, they sell well. They are pretty, even cute. Flowery, big-eyed, simple, decorative, meaningless, they are icons, emblems of the corruption of the artist -- any artist -- in our modern western society.