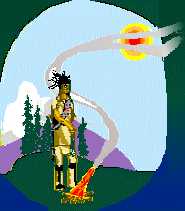 Traditional Herbal &Plant Knowledge, Identifications



HERBS FOR TEAS, FLAVORINGS, FOODS




Herbs used mostly by Anishinaabeg people; Indian names may be individual to the person describing and furnishing plant specimens. Different names were given to different parts of the plant, and to its different uses in food or medicine sometimes. Botannical names are current international standard.

ON-LINE Ethnobotany books Order direct from Amazon.com




Mohawk Plantswoman Katsi Cook on traditional women's uses of berries for nutrition and medicines. Menu links to specific plants info.

MORE INFO on a dozen traditional wild berry plants Katsi discusses includes photo ID's, multi-tribal uses, and analysis of substances they contain (MENU)
SACRED CEDAR (juniper): multi-tribal uses, detailed substance composition, vitamins/health, smudging, abuse of a sacred tree in northern Minnesota.

---




RESEARCH TOOLS



BOOKMARK each of these databases. You cannot readily switch from one to another.
Overview: After working extensively with these databases I conclude that no knowledgeable native people have been substantially involved in either the government or the University projects. The AGIS project has the greatest practical value, but its structure and contents right now reflect a design oriented to the needs of medical drug companies, the agriculture industry, and their researchers. There are indications by fund and personnel cutbacks that the "native plants" project has low priority with U.S. budgetmakers, hence with USDA. Native awareness of this project and its potential uses is a first step to getting both better support and more functionality from the viewpoint of our own potential uses for this kind of info tool.


USEFUL PLANT INFO LINKS
Custom Search

---
CREDITS: The Woodland man sprinkling some herb into his fire was drawn (in black and white) by John Fadden, well-known Mohawk artist and art teacher for the 1974 Akwesasne Notes calendar. I digitized and colored it for these pages. Most of the photos on plant pages linked to this one come from two of the big on-line gopher sources of plant ID pix: Herb Research Foundation's gopher images gateway and University of Wisconsin Botany gopher. A few images came from the TAMU experimental digitized herbarium.
Webmistress --Paula Giese.Text and graphics copyright 1995.
Last Updated: 6/7/97