Manitoulin is said to be the largest freshwater island in the world. It is located well off the north-central shores of Lake Huron, on the Canadian side of the border traced in the waters and among the islands of the mighty Great Lakes. In 1850, when the English were making treaties so as to get title to Indian land, in accordance with the Royal Procalamation of 1763 which told them to do this so the takings would appear to be legal, Manitoulin was to have been all-Indian by the Treaty of Manitoulin Island with the Odawa and Ojibwe (1862). So Wikwemikong Reserve is -- or should be -- all Indian land, the whole island. The name of the island means "power of the Manitous" or important spirits. Nevertheless, of approximately 12,000 people living on the big island, only about 25% are Ojibwe or Odawa. Instead of the whole island being a Native Nation, small reserves -- West Bay (tribal offices), Sheshegwanig, Sucker Creek, Birch Island, and (on the eastern end), Manitoulin Island Reserve No. 26 are scattered among land occupied by settlers. It is a popular place for boaters and other tourists; several websites advertise luxurious facilities (and nothing about Native people).
Francis Kagige, like Daphne Odjig, is of the first generation of Manitoulin artists, born before World War II, whose work, through individual vision (and influenced by the style of Norval Morrisseau) founded the Woodland or Legend painting style: hard-edged, concerned with the relationship of people to nature (often shown without any people in their pictures), and frequently depicting an impression that traditional stories have made on the artist.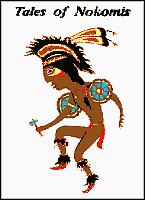 Kagige, born in 1929, and Odjig went to the same school, and both began to draw early. His early work was concerned with expressions of legends. He's best known for thw paintings he provided to illustrate Tales of Nokomis, tales her grandma had told her, retold by Patronella Johnson.
An important factor that spread Morrisseau's and Odjig's influence to what became a distinctive style and content school of Woodland painters -- mostly Anishinaabeg (Ojibwe, Odawa, Cree) -- was the brief operation of the Manitou Arts foundation, started by Tom Peletier in 1966. The first summer schools were held on Schreiber Island, with Damnphe Odjig, Carl Ray and Gerald Dokis as rsource people. Among the students were Shirley Chechoo, Randolph Trudeau, Blake Debassige, Leland Bell, and Martin Panamick, who went on to achieve reputations with their own unique visions and styles that still bear certain indications of their origin in Manitoulin's Manitou Arts. Legends -- traditional stories -- was what most often inspired the young painters, but they were also interested in nature painting, and cultural history.
These young artists later found mutual support and a cultural framework through summer art programs of the Ojibwe Cultural Foundation, which continues in a longer-lived way the arts and cultrure programs of the shorter-lived Manitou Arts program. In 1976 and 1977, the summer arts site chosen was Dreamer's Rock on the Birch Island Reserve of Manitoulin. The island was chosen for its spiritual significance. In the past, young adults of the Anishinaabeg went there to fast and pray, to receive a dream vision for the direction of their lives. They might also receive a guardian spirit in a quest there, Dreamers' Rock was known as the path of the Animkeeg, Thunderbirds, because it is her that thunder sounds loudest. It was a traditional meeting place, as well as a sacred site. The motivations for white people's vandalism and trashing of the sacred site and Dreamer's Rock may have been political. Iin the early 1970's there was a great deal of Native activism, both in the U.S. and Canada, concerning Native land, rights, sovereignty. There was hatred and "backlash" from many white people about this.
The young people, sad and angry at the trashing they found, spent some time cleaning it up.
Well-known Anishnaabeg intellectual Basil H. Johnston, (Parry Island Band Ojibwe) who was 45 in 1974 (he had participated in the writers' part of the Manitou Arts activities) wrote this poem, which Akwesasne Notes published in the Early Summer, 1976, Poetry section. It reflects the discovery of the sad state of Dreamer's Rock, which was followed by the young artists' cleanup, and the holding of the summer art sessions there:
DREAMERS' ROCK

It was a sacred place
Formed by titanic forces
Crest uplifted, upreaching
Toward the Path of Souls and to the worlds beyond
Oft enshrouded by mystic mists, uprising from vaporous lake
Illuminated by sun or moon or darkened by cosmic glooms
Incarnated by breaths of life.
Changing, yet unchanged, altering the moods of being.
Imparting but not revealing the mystery of becoming.

It was a hallowed place
Spirit pre-created, interred within the chasmic womb
Of its inmost substance.
By preternatural law destined to withhold from understanding
The mystery of the vital force of life; yet
By law outside the law ordained
To infuse and conjoin with the heart and soul of men
To give increase to being
Lend purpose to existence
Bestowing the gift of living but
Not disclosing the mystery of life.

To this vision crest in cherished hope came youth
Themselves not fully formed or heart and mind not
With the spirit of the world yet bound,
In vigil by solitary night
In fast from corporal want
They denied the worldly frame to appease the inner hunger
And cleanse the heart and mind
To merit and gain the sacred dream by which the way and mode of life and destinies are marked
And new force to being brings.

It is now a public place
Open, in its solitude
To incurious and indifferent
And other passers-by
Who come their transient ways, and as they pass through life
Seeing, rather than seeking
Hearing but not listening
Touching to remain unmoved
And in mockery but not in honour
They inscribe their names
Upon the abiding rock
As if names have a greater force
Than the mystery of being.

-- Basil Johnston, 1974
The area around Dreamer's Rock had been heavily vandalized and trashed in 1974. Young people cleaned up and traditional elders reconsecrated the site, which was thoroughly smudged with sacred cedar. Sweat lodge purification ceremonies were held there -- the first time many of the young artists had been exposed to this part of their heritage. It was felt that artistic visions might be enhanced by meeting there, so this was the place chosen to bring the young artists together for summer arts instruction that continued what Manitou Arts had begun. These meetings strengthened Indian ways and values -- something soon seen in the paintings and drawings celebrating old ceremonies, and new dreams.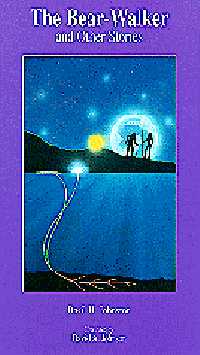 Johnston himself may have been influenced by Dreamers' Rock. His major works began to be published -- a book every year or so -- 2 years after he wrote that poem, beginning with Ojibway Heritage, an account of the traditional wisdom, and the first four degrees of Midèwewin. He has continued writing, his works including many books of stories, an autobiographical account of how he survived a forced stay at a Jesuit-run residential school, Ojibwe language course materials and a beginning dictionary, a cultural - geographical - historical account of Anishnaabe place-names. Moose Meat and Wild Rice, 1978, is funny-ironic adult stories of reserve life (published with the less informative title Ojibway Tales in 1993 by the University of Nebraska Press). His most recent work (1996) is a beautiful book -- Bear Walker and Other Stories, published by the Royal Ontario Museum, and illustrated by David Johnson, a younger artist continuing the Manitoulin Legend Painting tradition. Johnson's paintings for the book have become a part of the ROM's permanent collection. Shirley Cheechoo, another Manitoulin Legend Painter illustrated an earlier Johnston book published by the ROM, Tales the Elders Told,1981, which has been called "a Canadian classic."

Dreamers' Rock has had other "literary" influences. The first play by Ojibwe playwright Drew Hayden Taylor, is titled Toronto at Dreamer's Rock. This is a one-act play (very good for school production) portraying a teenage boy torn betwen traditions of his people -- which he only vaguely understands -- and the lure of modern life. It's published in a paperback with another one-act play, Education is our Right, by Fifth House (Toronto). De-Bah-Jeh-Mu-Jig Theatre (Manitoulin Island) has been very active in supporting Native drama. The name of the theatre means "tellers of weighed-words or news-type modern tales". It's the eastern Ojibwe pronunciation of Dibaajimowinan, one type of STORIES. Taylor won the 1992 Canadian Authors' Association Drama award for his longer more adult-oriented play The Bootlgger Blues, recently published as a Fifth House paperback.

Tomson Highway (Cree) won several awards for his play The Rez Sisters, a comedy, set on a fictional reserve called Wasy (which to many resembles Wikwemikong). A companion play that is a tragedy, Dry Lips Oughtta Move to Kapuskasing, shares the same setting and characters. Highway is probably the most visible of the "hot" young Canadian Native dramatists at present.

One cannot help feeling the site of all this was significant. Manitoulin's very name means "place of the sacred powers of the Manitous". Basil Johnston has written very movingly on the ancient powers of Dreamers' Rock. Inspiration from the Thunderbirds there may be part of the moving spirt and power of painters of the Woodland School, whose many works speak strongly to the hearts of Native people. Non-Indian art sellers and critics treat Woodland - Legend Painting as if it were no more than a style. I think it is a language. Its messages -- individual artists have many different ones -- are sometimes mysterious, imposible to rationally comprehend, but through the eye, they speak to the heart.